One of our Favorites from Sears
We sold this suit awhile ago, but it is in our "short list" of favorites. It was (is) a metallic suit from the late 60s. Although it is from the tail end of the decade, it has major mod sensibilities with its Italian cut and slim collar placement that we would place just a couple years earlier.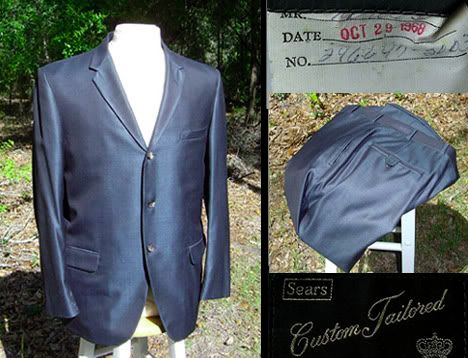 Tailor tags can be very important in dating menswear, especially because the classic suit doesn't change as rapidly as ladieswear and is sometimes harder to pinpoint in less than a 5 year period even if one is very knowledgeable. Of course, there are "of the season" cutting edge looks available for the fashion forward, but for the average man, a suit is an investment piece. They want to be stylish, but they don't want to look dated the next year, especially if their employment or social outings do not require a suit for daily wear.

This particular suit came from Sears. The tag is not specifically a tailors tag of a custom suit, but the date the suit was altered for the original buyer. Unlike high fashion magazines that show what the designers introduced each year, the Sears catalog was a very good record of what the average person was actually wearing that year, just like the paint colors represented what was actually in the average homes of America. It may not be nearly as exciting as haute couture, but is invaluable for historians, reenactors, vintage lovers, and costumers alike.

In the fall of 1968, the year of this suit, though the Brits had moved onto more fluid lines, American Mod was still showing an influence on American fashion and was interpreted in a little more of a relaxed fashion.

At the tail end of the 60s, because of the new synthetics, shades that could never be achieved before were everywhere. I have seen quite a few menswear in the jewel tone blues, greens, and teals during this time period in many eye tricking fabrics and hues that begged the question "Is that blue or is that green? Greenish Blue?". I have often needed a second or third opinion myself!

Having a specific date always makes me wonder if the date had been around a special occasion. I

always

imangined with the suit being tailored in proximity to Halloween, that perhaps someone bought it who went to an alternate event. They might have gone to a performance at a concert hall instead of a costume party that night. Or maybe it was just a coincidence, just another day.